Retail Spotlight | Home & Living
March 31, 2023
Retail Spotlight | Consumer Electronics
April 20, 2023
Fresh, bright, and appealing to our enduring love of everything sweet – it's no surprise that Easter is one of the most profitable holidays of the year. This week we're unwrapping the savvy marketing behind some of our favorite Easter-themed retail window displays.

Ushering in the Spring season sales (or, for those of us in the Southern Hemisphere – Autumn!) the weeks leading up to Easter have been known to generate more than 4.4 billion US dollars in confectionery sales alone. Like many seasonal holidays, Easter has an ancient religious origin, but that hasn't stopped the global appeal of eggs, chocolate, and bunnies – especially in a post-covid world where any excuse to spend time together is cherished.

So let's hop to it and take a look at the clever ways retailers can use visual merchandising to make the holiday work for their product.
KOKO BLACK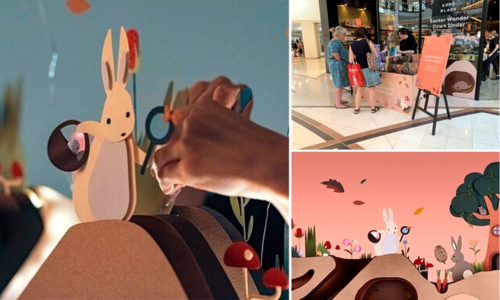 Koko Black, of Melbourne, Australia, has spent more than 20 years establishing itself as one of the country's premier chocolatiers. It's therefore no wonder that in 2019 for its Easter campaign, 'Easter Wonder Down Under,' the retailer chose to blend more traditional themes, like the Easter bunny on a hunt for eggs, with distinctly Australian flora and fauna.
Customers were drawn into a delightfully detailed papercraft forest-scape, evocative of a favorite picture book and appealing to the child in everyone. The boutique, hand-crafted display spoke to the nature of the products – all hand-made in Melbourne – and we especially love the way the Aussie Autumn was celebrated with muted, soothing pastels, the idea of burrowing down, getting cozy, and long nights full of feasting.
Koko Black took its cues from nature here, appealing to local shoppers' desire to support home-grown businesses as well as offering tourists a delicious morsel of Easter – as told by the Southern Hemisphere.
Source: https://www.linkedin.com/pulse/easter-unwrapped-zita-watkin/
HARRODS X FABERGÉ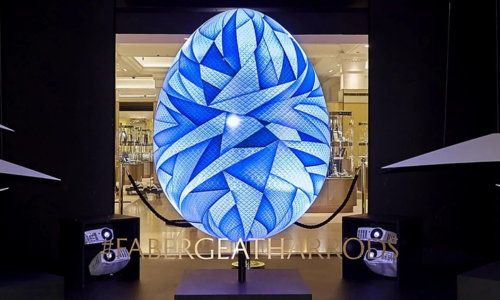 For Easter 2015, Harrods London, one of the world's foremost luxury department stores, and iconic art jeweler to the Tsars, Fabergé, collaborated to create what was truly a groundbreaking, interactive window display: a way to pay homage to Fabergé eggs while speaking to a 21st century audience.
Stunning projection mapping technology and a total of 16 projectors were used to light up a giant 1.5 meter spinning egg for the duration of the month-long installation – day and night – as customers themselves were invited to play a part in the art, to choose a design and see it grace the Harrods Easter Windows.
We admire this fusion of art and technology, of culture and play, which tantalizes guests with a taste of luxury while only elevating the brand's prestigious image.
Source: https://www.disguise.one/en/insights/case-studies/faberg%C3%A9-at-harrods-london/
CACAO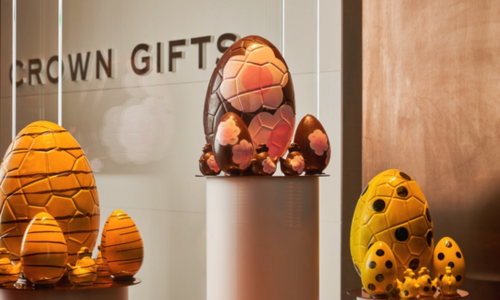 Cacao, with its roots in European gastronomy and its co-owners' Michelin-star credentials, is all about premium, innovative chocolate and pastry products. This year their range of Easter chocolate is available for purchase from a Pop-Up shop at Crown Melbourne, the city's centrally-located luxury entertainment complex.
Placing their product in such an affluent location only makes sense for the elegant brand, and while the inspiration for their Easter range is also a reflection of Australia's magnificent plant and animal life, we appreciate how Cacao are letting the chocolate take center stage through their storefront design: clusters of hand-painted eggs and chickens, large and small, can be seen nestled on pillars through the gleaming glass, illuminated by the warm glow of spotlights.
It's a window display that speaks for itself: the gorgeous, colorful range seems quite at home in such an opulent setting, a clear destination for those seeking to indulge in luxury this season.
Source: https://www.cacao.com.au/blogs/news/cacao-in-crown-melbourne-for-easter
CADBURY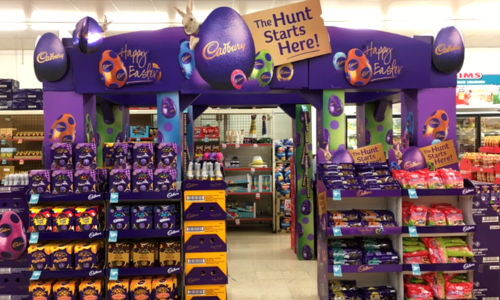 Cadbury has been a household name in chocolate for nearly two hundred years, and with a market share of 37% Mondelez Australia, Cadbury's parent company, are the leaders in the Australian chocolate market.
That being said, rather than resting on their laurels over the Easter period, in 2021 the company dreamt up 'The Cadbury Easter House' to drive up sales and reinforce their position as a brand of choice. These strategic point of sale displays were installed in over 140 of Australia's largest supermarkets, making them an immersive in-store, one-stop Easter shop that added some wonder back into the weekly shopping experience, inviting customers to come in and join the hunt in a nostalgic appeal to childhood.
We adore these irresistible chocolate cubbies too, and especially love the use of recyclable materials for an activation of this scale.
Source: https://www.popin.net/the-cadbury-easter-house-display/
We've studied a deliciously diverse offering of Easter-themed shop fronts this week, from the most exclusive to the massively accessible, and have seen how a multitude of approaches to storefront and point of sale design can have success if they deliver a beautiful, joyful customer experience.
At Fusion it's been our endeavor for more than 20 years to provide our retail partners with creative and sustainable strategies that win over their clients. If you value responsible, innovative design and want to revitalize your window displays, contact a member of our retail team at [email protected] so we can provide a centralized and integrated solution for all your marketing and display needs.