Retail Spotlight | Fashion – Men's Fashion
May 18, 2023
Retail Spotlight | Augmented & Virtual Reality
June 8, 2023
Date: 25 May 2023
Author: Flannery Dejean
Effortlessly cool, youthful, and deeply influential: to bring to a close our four-part series on Fashion retail displays it's only appropriate we dedicate this week's edition of the Retail Spotlight to the trend-defining streetwear industry.
Streetwear has taken the world by storm since its beginnings in the 1980's and 90's skate, surf, and hip-hop cultures. A movement that originated in the US, streetwear now reverberates on a global scale, shaping style norms from Tokyo to Berlin, and informing design choices at even traditional luxury fashion houses.
The allure and status of cult brand apparel and limited edition product drops propels this success, while artistic collaborations and the use of strong graphic design elements have paved the way for a new visual language in streetwear retail displays, unifying the sector's urban roots with avant-garde artistry.
OFF-WHITE
TOKYO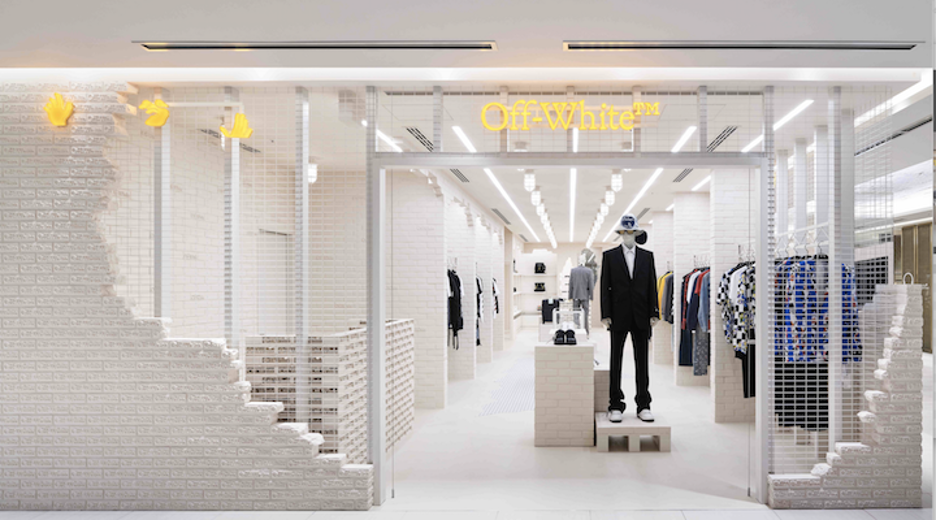 Virgil Abloh's high-end streetwear label Off-White launched a new store inside Ginza Six, Tokyo, in 2021. The result of collaborative efforts from a number of New York architecture and design agencies, this neutral yet evocative store features a striking facade with unfinished brick walls showcasing the brand's name. These 'Off-White' branded bricks are incorporated both outside and inside the location, and also used for cash register stands and product displays.
We love the bold yet barely perceptible branding on display here, as well as the suspension in time of the store somewhere between destruction and construction – and what that says to customers about Off-White's constant innovation.
Source: https://insideretail.asia/2021/07/08/off-white-opens-boutique-in-tokyos-ginza/
BILLIONAIRE BOYS CLUB/ICE-CREAM
MIAMI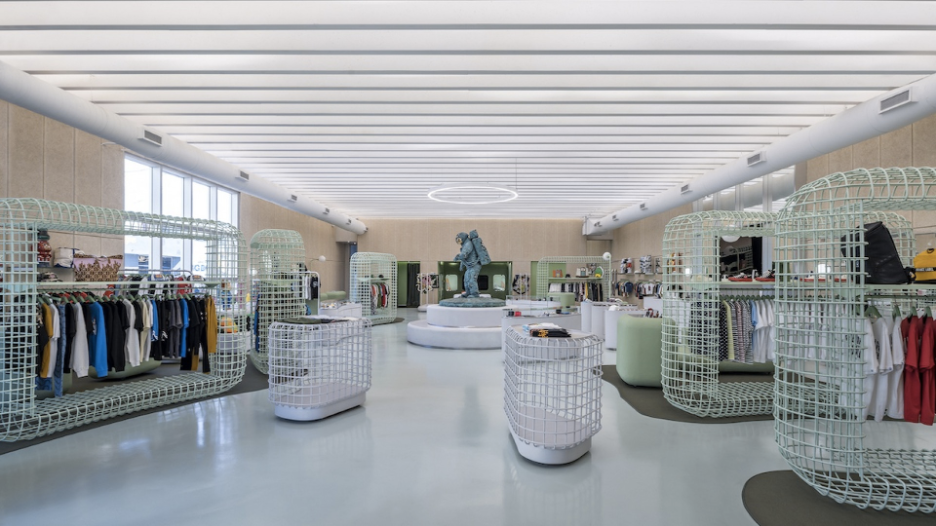 Luxury streetwear label Billionaire Boys Club has launched an immersive flagship store in Miami's artsy Wynwood neighbourhood. Designed by Snarkitecture, the store styles itself as a gallery, inviting shoppers to engage and explore the pieces as though they were works of art. With cues from the local environment and using environmentally friendly materials and nature-inspired colours, the designers have completely overhauled what was previously a sombre warehouse into a bright, open-plan space that still remains somewhat industrial – but in all the right ways! A central astronaut sculpture by artist Daniel Arsham, co-founder of Snarkitecture, is the centrepiece of the store, which will in fact host a rotation of artworks and installations alongside BBC collections.
We admire the brand's emphasis on the importance of physical retail spaces for customer engagement in a post-COVID world, as well as their strategic decision to locate the store in Miami's art community. Where better to begin redefining the intersection of art and retail?
Source: https://www.frameweb.com/article/retail/arts-and-retail-come-together-at-billionaire-boys-clubs-snarkitecture-designed-miami-flagship
COMME DES GARÇONS
TOKYO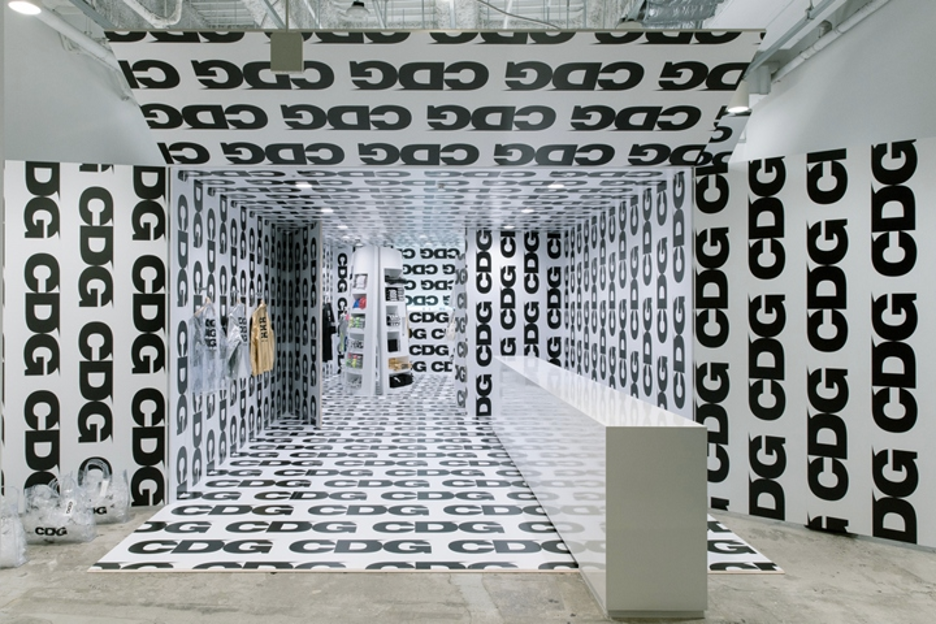 Little after the launch of CDG in 2018, a logo-centric streetwear collection by Comme des Garçons, the brand opened a dedicated CDG store in Tokyo's GYRE mall. Styled as an open box, customers are drawn into a space where the CDG logo is strikingly featured across the walls, ceiling, and floor. The monochrome, slightly claustrophobic interior consists of an elongated sales counter at the entrance and monolithic shelving units towards the back. The only pops of colour come from the clothes themselves. We appreciate this distinctive concept and the continuity it upholds with Comme des Gaçon's founding designer Rei Kawakubo's 'anti-fashion', deconstructed aesthetic, which has had such a great influence on the industry since she pioneered it in the 80s.
Source: https://retaildesignblog.net/2018/07/29/cdg-store-tokyo-japan/
As we wrap up our journey through fashion retail displays, we have seen that the dynamic streetwear industry consistently propels broader fashion into the future. Its influence is undeniable, shaping global style norms and stretching the confines of traditional design in a way that nevertheless resonates with the modern consumer. 
Each brand in our selection has translated their unique vision into retail displays that are not only engaging, but also tell a story that is authentically theirs.
Now, what about you? With over 20 years of experience providing our partners with holistic retail solutions, the team at Fusion has a proven track record in creating bold and effective displays. 
Get in touch with our specialists via [email protected] – let's work together to create a retail experience that's as unique and compelling as your brand.