Retail Spotlight | Fashion – Jewellery & Accessories
May 11, 2023
Retail Spotlight | Fashion – Streetwear
May 25, 2023
Date: May 18, 2023
Author: Flannery Dejean
For our third of four fashion installments, this week at Fusion we're pointing the Retail Spotlight at the dynamic Menswear Industry. Over recent years key trends have been transforming men's fashion, which traditionally was less trend-driven than its feminine counterpart. Today, for example, the boundaries between traditional menswear and womenswear have become increasingly blurred, with more and more designers and brands creating collections that are not strictly defined by traditional gender roles. Other societal shifts have also been influential: the rise of "athleisure" or sportswear-inspired fashion, driven by an increased focus on health, wellness, and comfort – or, as we will see throughout this week's curated selection of retail displays – the increasing prevalence of streetwear even in the most traditionally luxurious brands.
GUCCI
HONG KONG
To unveil the Gucci Pineapple ready-to-wear Collection in 2022 the luxury Italian fashion house transformed its shop windows in Tsim Sha Tsui, Hong Kong, into enviable maximalist walk-in-wardrobes. The capsule collection, with its earth and pastel tones, busy gingham, and of course the eponymous Pineapple-rose motif skillfully combines traditional collegiate elements with new-wave streetwear. We love the emerald green arcade-like structure of these window displays; shoppers can imagine the pieces gracing their own homes and enter into the playfully eclectic aesthetic of the brand.
Source: https://tdf-asia.com/window_displays/gucci-pineapple-capsule-collection-store-window-installation/
THE NORTH FACE XX KAWS
HONG KONG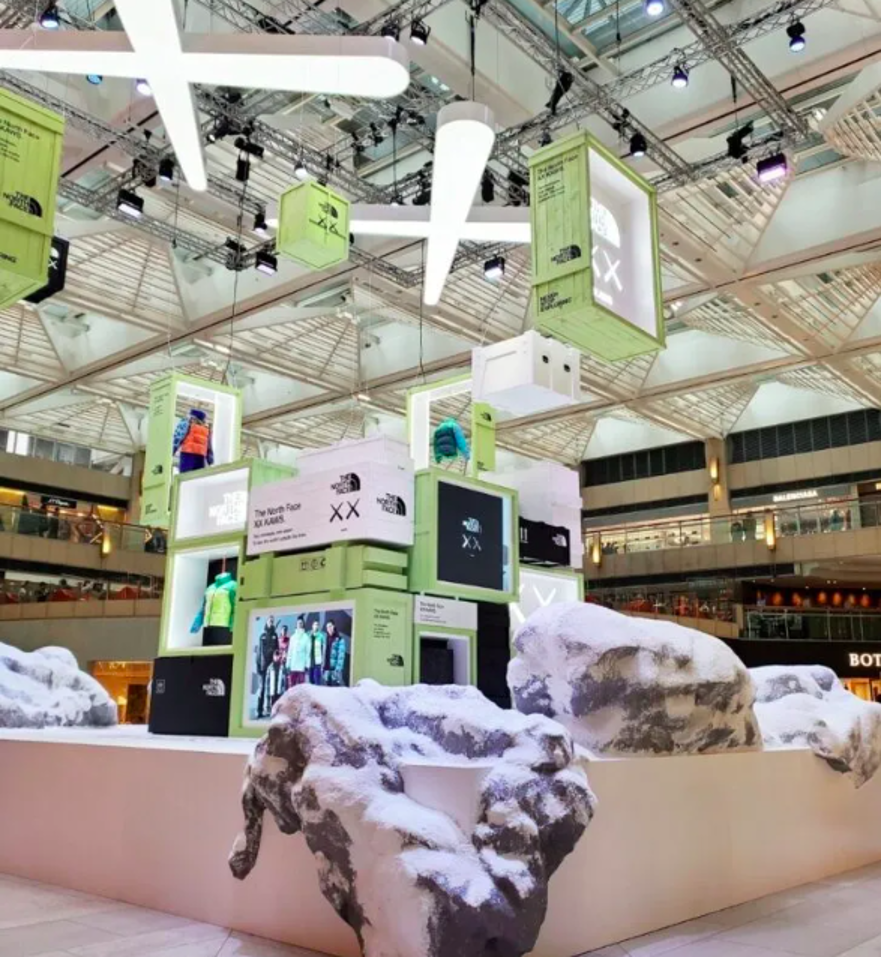 The North Face, originally a brand focused primarily on high-performance climbing and backpacking equipment, has more recently enjoyed an unexpected rise as a streetwear icon. With its jackets and other products becoming fashionable items in urban areas, The North Face has been known to collaborate with high-fashion designers, brands, and artists. Here we see the fruit of one such partnership with celebrated New York graffiti artist and designer Brian Donelly: a 12-meter basecamp constructed to showcase the launch of The North Face XX KAWS Winter Capsule in Hong Kong. The impressive installation, which dominated the atrium of The Landmark shopping mall, displayed pieces from the collection in lime-green cargo boxes suspended from the ceiling or piled up on a rugged and glacially decorated platform, as though airlifted into place. The scale of the display is arresting; its different facets and pieces can be seen from every level and angle of the luxury mall, ensuring maximum impact and visibility.
Source: https://tdf-asia.com/window_displays/the-north-face-xx-kaws-pop-up-store/
RALPH LAUREN
NEW YORK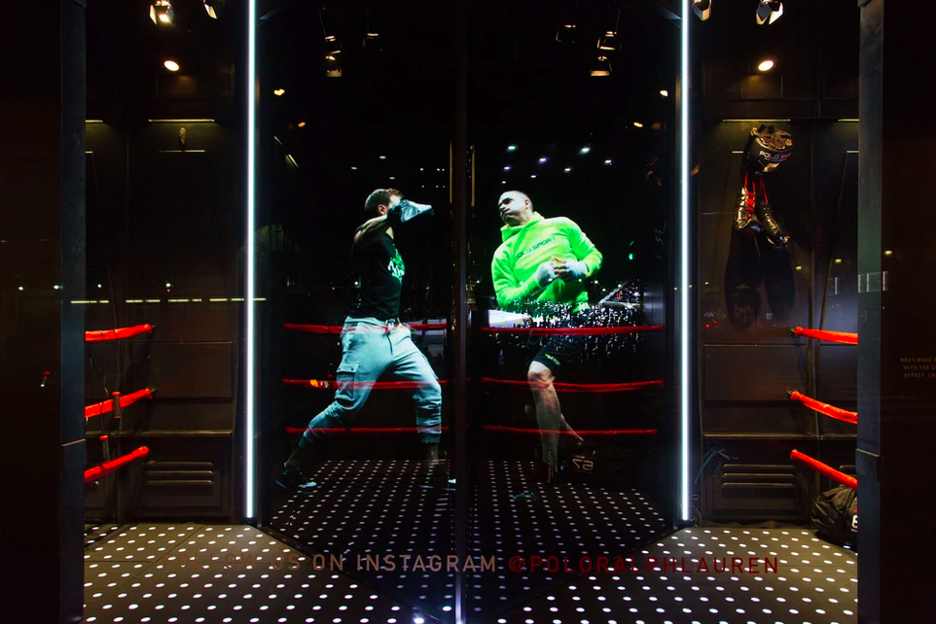 Ralph Lauren, ever known for its "lifestyle brand" concept, can here be seen celebrating the launch of its new Polo Sport line with an interactive holographic window display. The New York flagship store display featured five different vignettes of athletes performing various workout routines, embodying the core qualities of the Polo Sport line: strength, speed, movement, and style. Apart from the technical expertise so evident in this dynamic visual illusion, we admire how the convincing holographic experience immerses customers in a story and invites them to inhabit the powerful lifestyle promised by the brand's sportswear.
Source: https://www.cinimodstudio.com/shadow-boxing-ralph-lauren
LOUIS VUITTON X NBA
TOKYO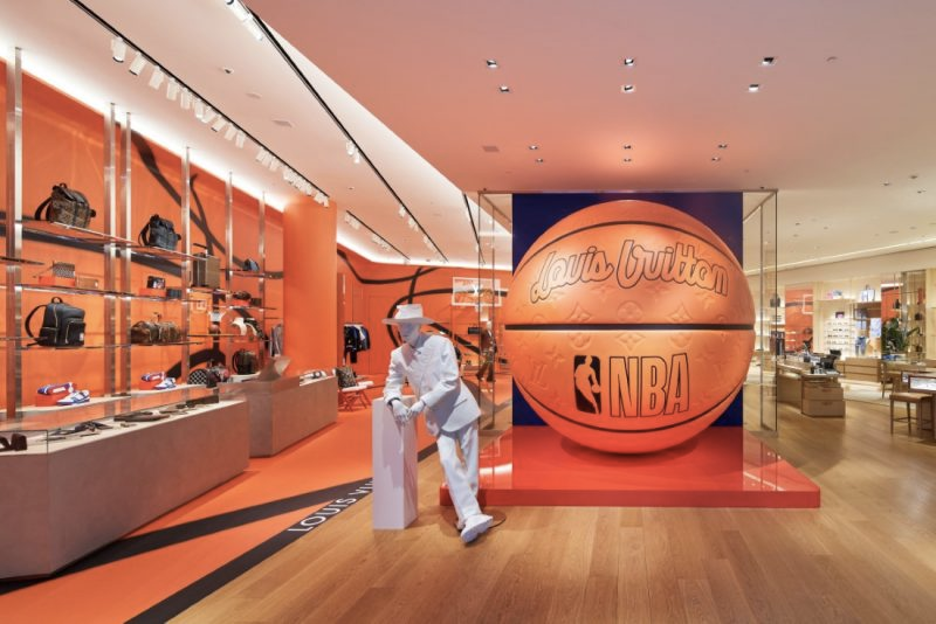 When Virgil Abloh was named the artistic director of menswear at Louis Vuitton in 2018 he made history for a number of reasons, but not least because his appointment was a huge statement about the influence of streetwear in luxury fashion. Here we see that influence at work: an exclusive ephemeral store in Tokyo's Shibuya district, which marked the release of Vuitton's collaboration with the National Basketball Association led by Abloh with designer Don Crawley to commemorate the NBA's 75th anniversary in high style. The pop-up featured facades and interiors decorated in NBA colors, a massive basketball three meters in diameter (also for sale!), and walls painted in the NBA's signature orange. We love how this store challenges the notions of what luxury men's fashion can be and integrates contemporary cultural elements into a traditionally exclusive industry.Source: https://magazine.luxus-plus.com/louis-vuitton-collaborates-with-the-nba-in-the-design-of-a-pop-up-store-in-shibuya/?lang=en
The retail landscape of men's fashion is growing and continually evolving, reflecting larger societal shifts and fashion trends. From Gucci's maximalism to Ralph Lauren's holo-athletes, these trends are vividly brought to life through carefully curated display experiences which not only showcase pieces but also immerse shoppers in the unique story and lifestyle each brand represents.
Retail displays are a powerful tool for brands to communicate their identity, engage with customers, and drive sales. To make the most of this opportunity it's essential to understand the latest trends and techniques in window and shop design. The team at Fusion has over 20 years' experience in creating bold, effective displays that capture attention and resonate with your customers. Contact us via [email protected] today for expert support and guidance in elevating your visual merchandising strategy.