Retail Spotlight | Food and Beverage
April 27, 2023
Retail Spotlight | Fashion – Jewellery & Accessories
May 11, 2023
Date: May 4, 2023
Author: Flannery Dejean
Are you feeling as inspired by the recent Met Gala as we are? With AU Fashion Week also coming up soon, we're inviting you along on our month-long deep dive into all things Fashion!In this first of four special editions of Fusion's Retail Spotlight, we're taking you on a journey through the world's fashion capitals to explore some of the most awe-inspiring window displays by prominent luxury fashion houses. We'll delve into the creative minds of designers, artists, and fashion labels as they collaborate to create mesmerizing installations that captivate the senses and redefine the luxury shopping experience.
HERMES X LUCA NICHETTO
MILAN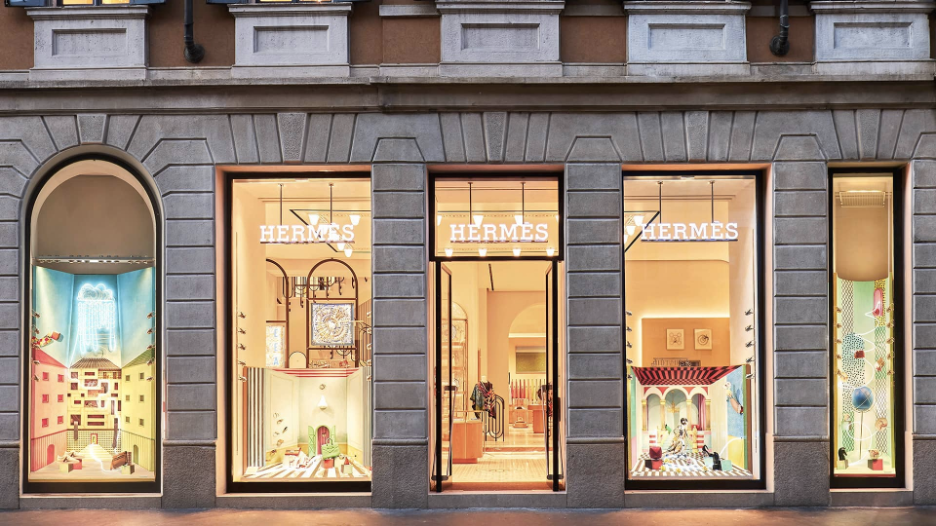 Italian designer Luca Nichetto can here be seen honoring the re-opening of Hermès' flagship store in Milan with a captivating window display, "Mythological Renaissance."
This installation brings the 2021 Hermès theme, "An Odyssey," to life by depicting four mythological tales with paradoxical elements.
'Labyrinth Palace' draws from the Minotaur myth, while 'The Unknown Behind The Door' features a hovering eye and nose, symbolizing the Cyclops myth. 'The New Theater' offers a modern, empowered take on one of Ulysses' sirens, and 'Infinity Journey' unites all four scenes with a thread weaving around celestial objects before disappearing, inviting shoppers to make their own interpretations.
This bespoke display showcases the best of Italian tradition and creativity, seamlessly merging ancient myths with contemporary design. We love the tiny, whimsically colorful sets and to-scale versions of Hermès pieces, which give an Alice-in-Wonderland feel to the installation.Source: https://www.stirpad.com/news/designers/designer-luca-nichetto-creates-four-bespoke-window-displays-to-celebrate-the-reopening-of-hermes-flagship-store-in-milan/
PROENZA SCHOULER X BARNEYS
NEW YORK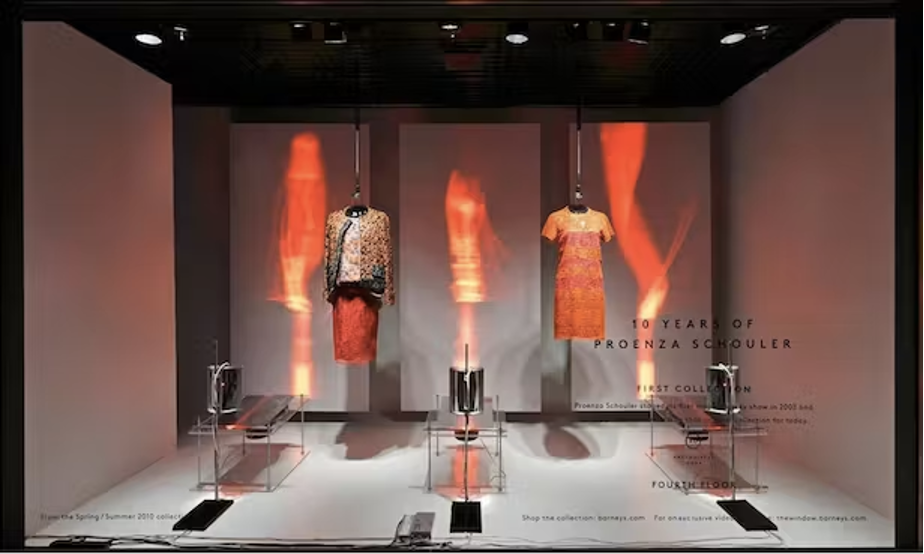 Up next: in this display luxury department store Barneys New York marked Proenza Schouler's 10th Anniversary with two avant-garde windows, featuring kinetic liquids and vibrating LED beams.
Designed by Patten Studio in collaboration with Barney's Creative Director, Dennis Freedman, the displays showcase the essence of the brand's first major runway collection. The 'Lava' display uses hydraulic pumps to circulate dyed glycerin and mineral oil, creating a mesmerizing lava-lamp effect reminiscent of Proenza Schouler's intricate fabrics.
We particularly admire the high-tech, high-impact approach evident in 'Flame,' where sound, crimson LED lights and mylar work in harmony to produce dancing reflections resembling three ever-changing pillars of fire. The dynamic windows garnered attention from fashion and culture outlets, as well as on social media.
Source: https://www.pattenstudio.com/works/proenza-barneys/
DIOR
PARIS
This truly intricate, meticulously hand-crafted, utterly charming display celebrated the long-awaited reopening of Dior's flagship store on Paris' prestigious Avenue Montaigne in March 2022. To commemorate the occasion, Dior's creative team designed a mesmerizing window display inspired by a photo from the archives (1973!) of a fabric and metalwork owl.
The design team crafted and enchanting forest from recycled atelier materials such as fabric scraps and discarded leathergoods hardware. Featuring 100 butterflies, 180 bees, and a myriad of flora and fauna, scale and artistry take center stage in the installation. We admire the effort on display, and the way Dior was able to rework workshop rubbish into glamorous décor, leaving luxury enthusiasts in awe.
Source: https://myfrenchcountryhomemagazine.com/diors-enchanted-forest-anniversary-windows/
LOUIS VUITTON X YAYOI KUSAMA
TOKYO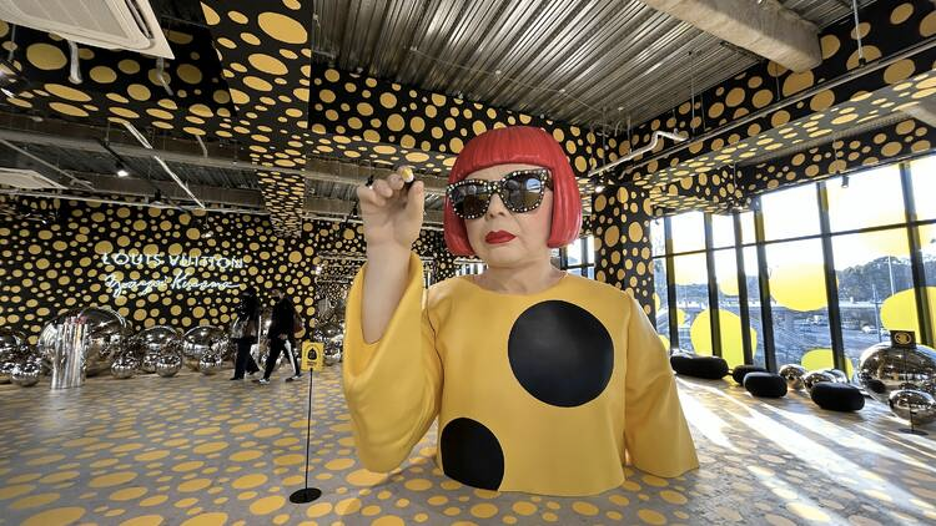 Here we discover Louis Vuitton's vibrant 2023 collaboration with Japanese artist Yayoi Kusama, showcased in a stunning pop-up shop in Tokyo's Harajuku district. Packed to the rafters with Kusama's signature yellow polka dots, the eye-catching exteriors and interiors transform the industrial space into something reminiscent of a modern art museum!
Inside, customers are immersed in a world of Kusama's iconic 'polka-dot avant-garde' motifs which cover walls, ceilings and floors, as well as gleaming chrome spheres scattered about or in 'LV' formation – the centerpiece is of course the Madame Tussauds-esque two-storey statue of the artist herself, paintbrush in hand. We would love to have experienced this unique fusion of high fashion and contemporary art; the pop-up became quite the destination in style-conscious Tokyo, with queues of eager shoppers forming at the doors on weekends.
Source: https://www.timeout.com/tokyo/news/louis-vuitton-and-yayoi-kusama-pop-up-store-opens-in-harajuku-for-a-limited-time-010523
VETEMENTS X HARRODS
LONDON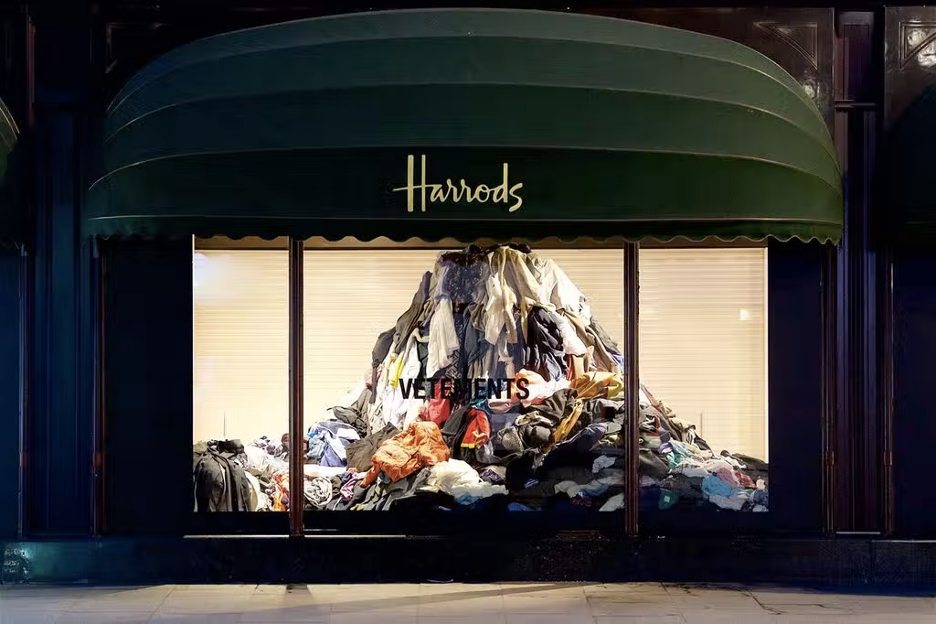 In 2018 cult-favorite couture brand Vetements partnered with Harrods in a bold statement about the fashion industry's overproduction issue – by unveiling four windows stuffed with a mountain of used, unwanted clothes.
In this display the Parisian urban fashion label is seeking to "emphasize the need for honest dialogue about the environmental impact of fashion", the second largest polluting industry globally (over 30% of merchandise is not even sold and ends up in landfills!). The displayed clothes, contributed by 4000+ Harrods employees, were of course donated following the impactful installation.
Political statements. Fashion statements. Statement pieces. By blending these elements on a number of occasions, Vetements has made quite the name for itself and even holds its own financially amid luxury behemoths like Gucci and Balenciaga. We admire this clever, altruistic marketing strategy, and hope that by confronting overproduction, Vetements can continue to inspire change in the fashion world.
Source: https://www.standard.co.uk/insider/fashion/vetemenets-harrods-overproduction-window-display-statement-a3761606.html 


The world of luxury fashion is not just about the clothes, but also about the stories brands tell customers via diverse means – often through creative window displays and installations. Such innovative collaborations between fashion houses, designers, department stores, and artists showcase the immense talent that goes into transforming a simple store window into a breathtaking visual experience. The fusion of fashion and art in these displays transcends the barriers of traditional retail, offering a unique and immersive journey for shoppers and onlookers alike.
The Luxury brands have set the bar high this week, leaving us eagerly anticipating next week's masterpieces. Watch this space![1]
To boost your brand's in-store presence, create a lasting impression on customers, and drive both foot traffic and sales – like these high-fashion houses have so beautifully done – contact our retail team at [email protected] today. We have the hard-won knowledge, expertise and resources to comprehensively fulfill all your marketing and display needs, and we're dedicated to your success – whatever the industry.