Retail Spotlight | Fashion – Luxury Brands
May 4, 2023
Retail Spotlight | Fashion – Men's Fashion
May 18, 2023
Date: May 11, 2023
Author: Flannery Dejean
With a history spanning thousands of years (if we count the oldest known Jewellery items, over 100,000!) today's Jewellery and Accessories industry is deeply rooted, and has a wealth of traditions to uphold and respect – however, those who might accuse brands of becoming a little static or relying too much on past prestige would be mistaken in doing so. The sector at large seems to be enjoying an enduring boom despite a difficult market and the disruption of the Pandemic years, and this is in no small part thanks to its adaptability and innovation, the will and capacity to evolve and adapt to changing consumer preferences, and various technological advancements.
In this week's Retail Spotlight, the second in our month-long Fashion focus, we explore how four renowned Jewellery and Accessories brands – Pandora, Bulgari, Swarovski, and Tiffany & Co – have leveraged unique strategies to create memorable retail experiences for their audiences. From multi-sensory activations to augmented reality, the landscape is far from ordinary. Let's see how these brands have pushed the boundaries of traditional retail, offering a glimpse into the future of shopping experiences.
PANDORA
SYDNEY, AUSTRALIA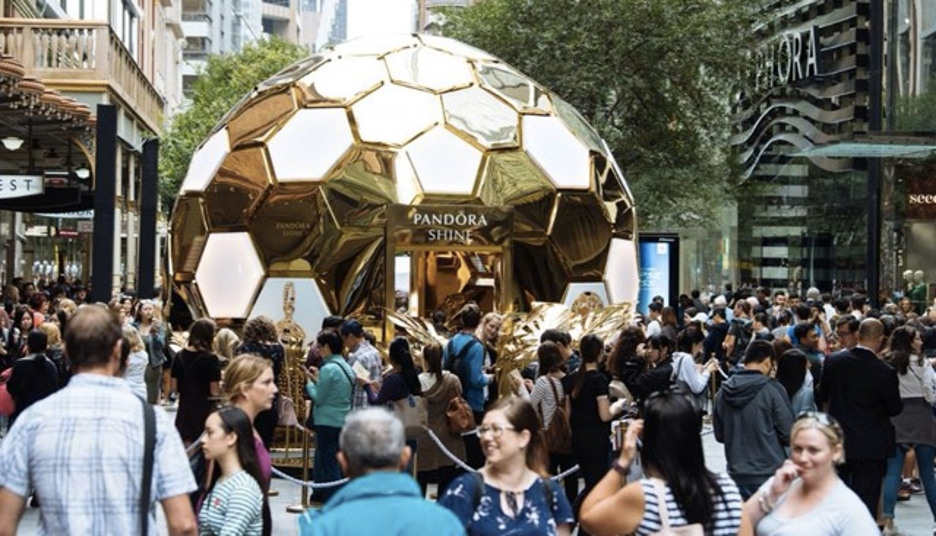 Pandora Jewelry celebrated the global debut of Pandora Shine, its new 18k gold-plated sterling silver line, with a three-day, multi-sensory, interactive beehive installation in Sydney's Pitt Street Mall, designed by Melbourne-based YourStudio. The 5-metre high golden structure was inspired by the brand's 2018 geometric honeycomb charm. The hive was filled with metallic golden flowers, subtly scented and revealing the latest charms, and featured immersive 'humming hubs' where visitors could hear the sound of bees. Edible gold-leaf-coated ice-creams were also available, ensuring that shoppers' every sense was captivated by the activation. What an innovative, engaging introduction to the Pandora Shine collection, which draws inspiration from nature and honeybees, for the Australian market.Source: https://campaignbrief.com/pandora-launches-golden-beehiv/
BULGARI
BASEL, SWITZERLAND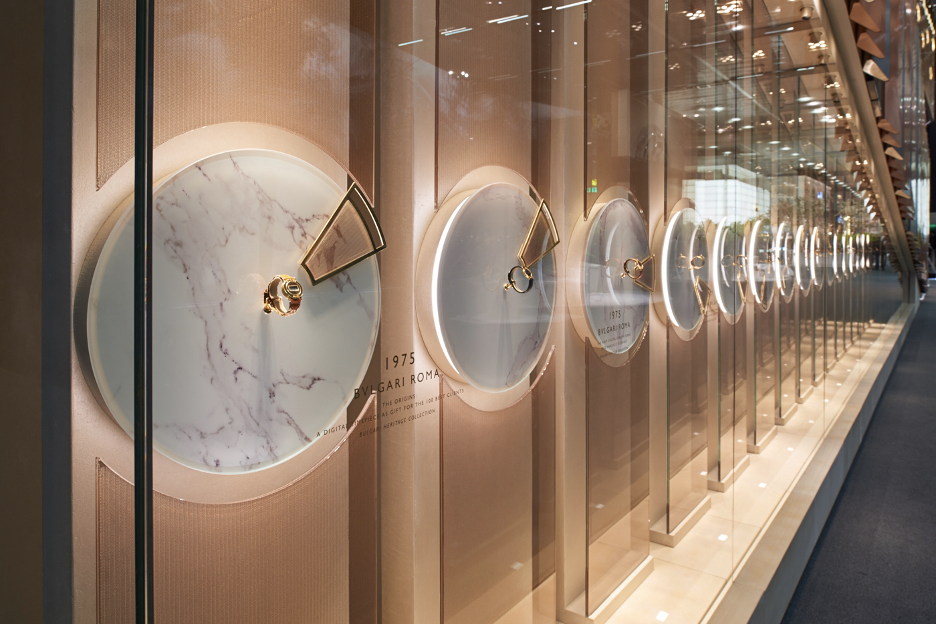 To celebrate the 40 year anniversary of the Bulgari Bulgari collection during Baselworld 2015, a global industry trade show, the luxury watch and jewellery brand called on architect Marco Piva's studio to create an immense, luminous, asymmetric display featuring historic as well as recent pieces from the collection, as part of the Bulgari booth. The large external window led passersby seamlessly through time and watch design, with a number of iconic timepieces displayed across monolithic moons in white marble, circled by gleaming, semi-transparent golden segments that turned like the hands of a watch-face. On the surface of the glass, people were able to read a little detail about the different watches. Of crucial importance at the entrance to the pavilion, we love how the Bulgari booth succeeded in taking visitors on a journey, imparting a message about the brand's noble roots and present preeminence.
Source: https://www.federicapellazza.com/portfolio/template/
SWAROVSKI
CHENGDU, CHINA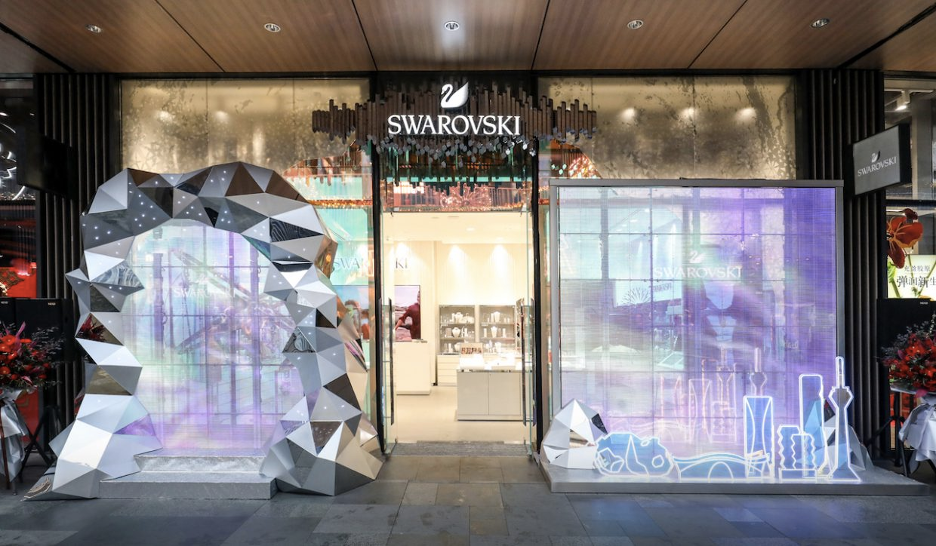 Swarovski, the Austrian crystal producer, launched an innovative augmented reality (AR) store in Chengdu in 2019. Following on from their first successful AR store launch in London, the Chengdu location is the only one in China which allows customers to virtually try on Swarovski products using interactive screens – and share the pictures on social media! Also featuring a crystal-encrusted stairway, the store offers a unique, immersive, 'omni-channel' experience, carefully implemented by Swarovski to further ensure its most important market – that of China – in an increasingly digital age. China continues to be a testing ground for the brand's innovations: the company is increasingly focusing on digital channels to engage millennial consumers and maintain a fresh brand image. We appreciate the cutting-edge technology on display here – not only do the interactive screens, which look just like mirrors, allow users to virtually try on different pieces in the collection, they also help the brand to understand changing customer preferences and streamline the checkout process.
Source: https://jingdaily.com/swarovski-chinese-consumers/
TIFFANY & CO X DANIEL ARSHEM
NEW YORK, USA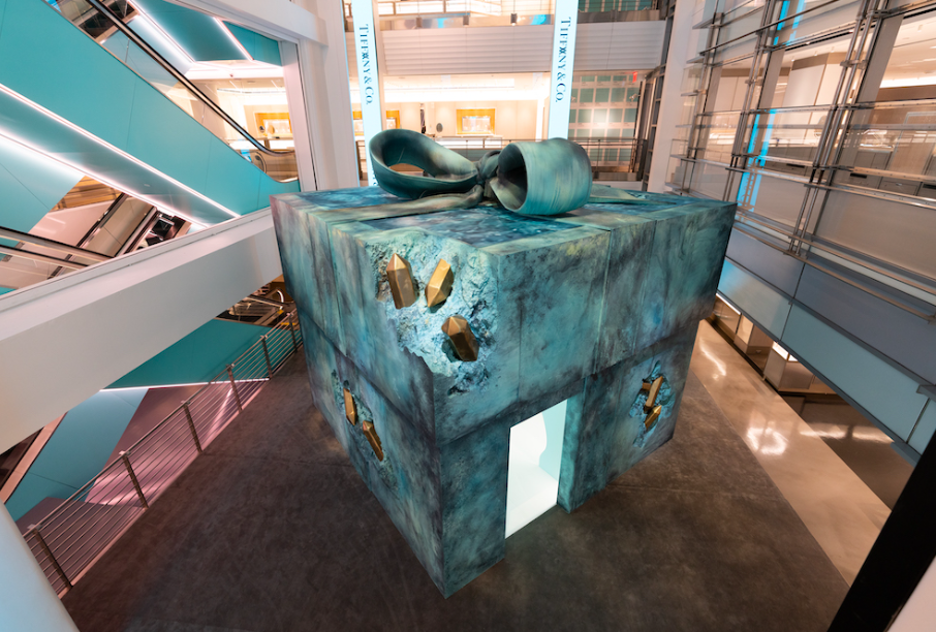 Tiffany partnered with contemporary artist Daniel Arsham in 2021 to create the Bronze Eroded Tiffany Blue Box®, a limited series of 49 sculptures that reinterpret Tiffany's iconic Little Blue Box through Arsham's "Future Relics" aesthetic, in which he imagines cultural objects discovered in the distant future. A not-so-little version of the Bronze Eroded Tiffany Blue Box® was displayed at The Tiffany Flagship Next Door to commemorate the collaboration – customers could enter the futuristic, bright '1837 Blue' and white interior and check out Asham's creations and the limited edition jewellery housed within. We admire the brand's imagination and the artist's vision, and their willingness together to play with such an iconic theme – it certainly had a memorable effect.
Source: https://whitewall.art/lifestyle/daniel-arsham-transforms-the-iconic-tiffany-blue-box
As we've seen, the retail industry is no stranger to innovation. Jewellery and Accessories brands are setting new standards for customer engagement, utilising groundbreaking strategies to create memorable shopping experiences. These case studies not only demonstrate the power of creativity in retail but also offer valuable insights for other brands seeking to make their mark in the industry. As technology continues to advance, we can only expect the brand-customer exchange to become even more immersive, interactive, and personalised. Are you ready to take your retail experience to the next level?
At Fusion we want to help you achieve that; we partner with retailers to boost their brand, impress their customers, and increase sales through our comprehensive marketing and display services, and thanks to our many years of industry expertise and successful retail relationships. Get in touch with one of our experts via [email protected]today to better make your mark in retail.