Retail Spotlight | Easter Displays
April 12, 2023
Retail Spotlight | Food and Beverage
April 27, 2023
In this week's edition of the Retail Spotlight – where we explore all things innovative and captivating in window design – we're plugging into the surging consumer electronics industry.
In 2023 the sector's global market revenue is soaring at over US$1,028 billion, with experts predicting only more growth on the horizon. It's an extremely competitive retail landscape; industry giants continually push the boundaries of creativity, and eye-catching visual merchandising has never been more crucial.
Join us as we uncover the key trends and creative strategies behind some of the most memorable storefronts in electronics, and we'll give you an insider's look at cutting-edge retail display design.
SAMSUNG X KADEWE
Berlin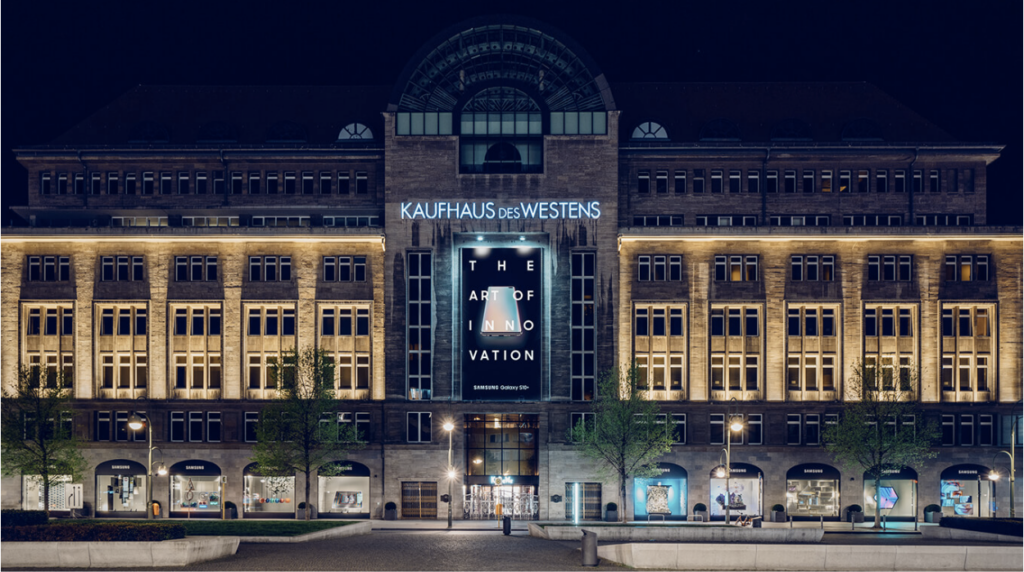 In 2019 global tech giant Samsung secured a world-first exclusive partnership with continental Europe's largest and internationally renowned luxury department store, the KaDeWe in Berlin, to dedicate all ten of its 4×4 meter shop windows to the Galaxy S10 launch.
Samsung's 'Windows into the Future' transformed the displays into interactive spaces, enabling customers to engage with the S10's innovative features, and turning abstract technical concepts into tangible benefits.
Truly, any one of the ten different installations could have featured by itself on the blog this week; we love the retailer's creative approach, the use of fascinating visuals, mechanical games, and participatory projections which incorporated sensors and technology from the smartphones themselves. It all allowed for a direct connection with passersby and effectively took customers on a journey through features that they may not otherwise have understood or desired.
An exclusive Galaxy pop-up store located inside the KaDeWe then offered visitors the opportunity to explore the Galaxy S10 further, get hands-on experience with the device, and make purchases – and here the results speak for themselves, with Samsung reporting a 280% increase in sales of the smartphone in Berlin.
Source: https://projectfoyer.com/kadewe/
APPLE X SELFRIDGES
London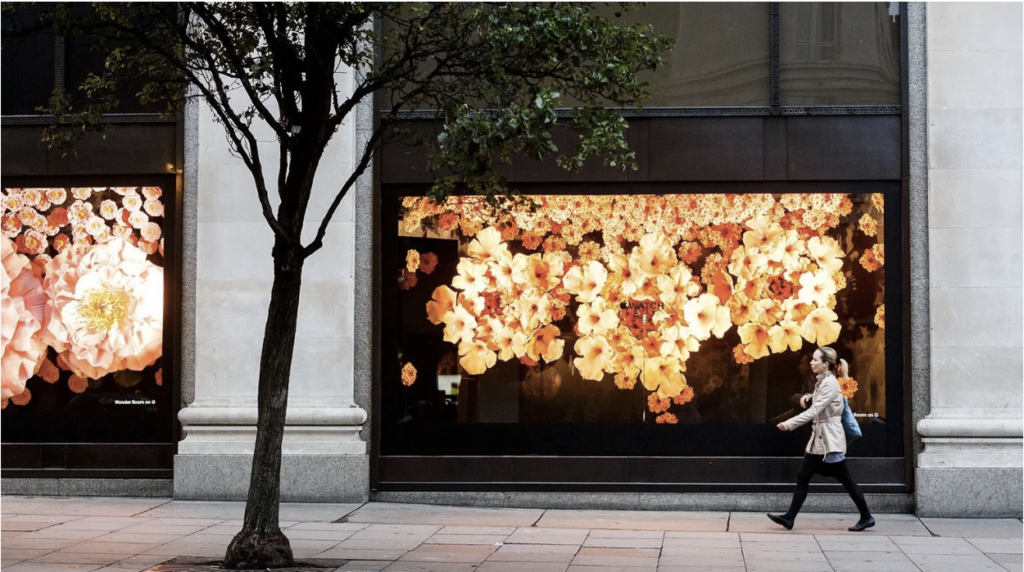 Having played a significant role in shaping the consumer electronics industry and well-known for striking window displays in its own stores, the American multinational Apple continued this tradition in 2015 with a massive and visually stunning promotion for the Apple Watch at Selfridges, an iconic high-end retail destination in London.
Inspired by the UI of the watch face itself which featured a choice of flowers blooming over a 24 hour period, Selfridges' 24 storefront displays were decked with over 5800 stunning sculptured blossoms, all hand-painted and meticulously crafted using various methods like cast resin and 3D printing. Although gloriously intricate, the bright visuals on the dark background maintained perfect harmony with the brand's minimalist design philosophy.
The arresting large-scale display drove foot traffic into Apple's store-within-a-store concept at Selfridges, delighting passersby.
We admire how the attention to detail present in every bloom speaks to the consumer about Apple's ethos for quality, where the craft of technology is elevated to an art form.
Source: https://9to5mac.com/2015/08/20/apple-watch-selfridges-display/
BOSE & CO X JOHN LEWIS
UK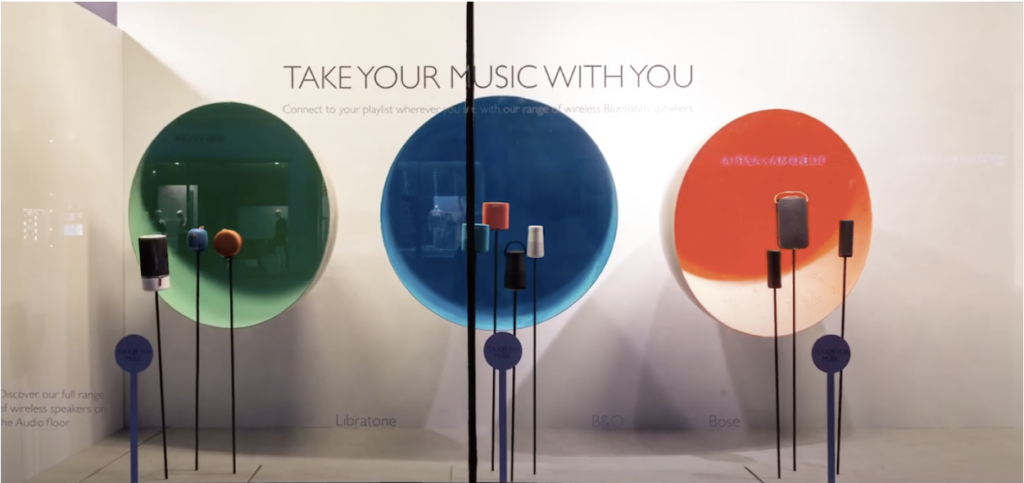 Prominent UK retail chain John Lewis was at the forefront of ingenuity in 2015 when it introduced an impressive interactive window display showcasing the latest Bluetooth speakers from brands such as UE, Megaboom, Libratone, Bose, and Bang & Olufsen. Installed in 16 department stores nationwide, the display made use of whispering window technology, a standout feature in which passersby were invited to 'touch for music,' – to press a panel on the glass and activate a percussive explosion of sound. The grouped speakers were presented on sleek black rods like futuristic flower arrangements in front of three vibrant wall-mounted hemispheres – each one home to a unique melody.
We appreciate the multisensory appeal of these windows; the way the promise of music enticed people closer to examine the products in detail.
Source: https://www.youtube.com/watch?v=VS1hDem-6yM
Clearly, in the aggressively competitive and constantly evolving industry that is consumer electronics, retailers are going above and beyond to attract customers – and window displays that leverage creativity, cutting-edge technology, and multisensory engagement are essential for those who want to stay ahead of the pack.
If you're looking to elevate your brand's visual merchandising and create memorable experiences that drive foot traffic and boost sales, don't hesitate to contact one of our retail specialists via [email protected]. Join thousands of retailers who've trusted us to provide centralized, integrated marketing and display solutions, and we'll help you transform your storefronts and points of purchase into immersive spaces that capture the essence of your brand and leave a lasting impression on consumers.