Retail Spotlight | Fashion – Streetwear
May 25, 2023
Retail Spotlight | Pride Edition
June 22, 2023
Date: June 8, 2023
Author: Flannery Dejean
This is the dawning of the age of Aquari– of Augmented Reality (AR), that is. Digital natives currently dominate and will continue to flood markets worldwide; Millennials will make up 75% of the workforce in 2025, and following generations will only become more comfortable and dependent on technology than their forebears.
With a penchant for slick, omnichannel user experiences, personalised shopping, and 'retailtainment', today's shoppers have been shaped by and continue to shape trends in technology. Augmented and Virtual Reality are at the forefront of these.
In the context of retail, AR is far from a gimmick; it's an essential tool for enhancing customer experience, driving engagement, enabling personalisation, and ultimately – boosting sales.
This is even more true in a post-pandemic landscape, where brands must bridge the gap between online and offline shopping: AR and VR can bring the convenience and extensive selection of online shopping into the physical retail environment, and conversely, add the tangibility and immersion of offline shopping to the online world.
So, how can retailers break through the noise and future-proof their business with these exciting and disruptive technologies? To give you an idea, this week we're featuring four brands who have harnessed the potential of AR to redefine the retail experience.
SK-II
TOKYO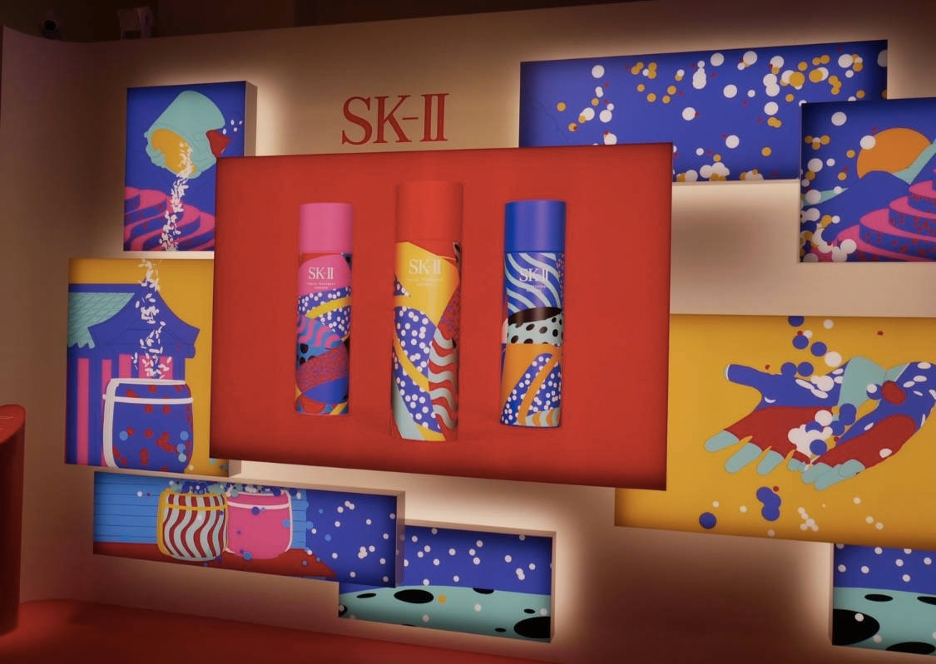 Japanese skincare giant SK-II has made significant efforts to modernise and digitise its marketing approach over the last few years, adopting innovative technologies on a few different occasions to capture the public's attention.
The SK-II Wonderland pop-up shop is one such example, launched in 2018 in Harajuku in collaboration with Dutch artist KARAN – who also designed the packaging of a limited edition skin essence for the brand. The activation was housed in a dedicated pop up event space and featured three vibrant ground-floor rooms where visitors could interact in over 25 distinct ways with their environment thanks to an AR app which brought the space to life through digital artwork. Upstairs, it was possible to find out via photo technology the age of one's skin, as well as interact with SK-II's star ingredient Pitera via a movement-reactive table – and of course, browse the different essences in the boutique!
We love the large-scale, fully immersive nature of this pop-up, which combined playfulness, colour, art, and interactivity to bring real utility to customers' lives; a shining example of retailtainment.
REDMI
ONLINE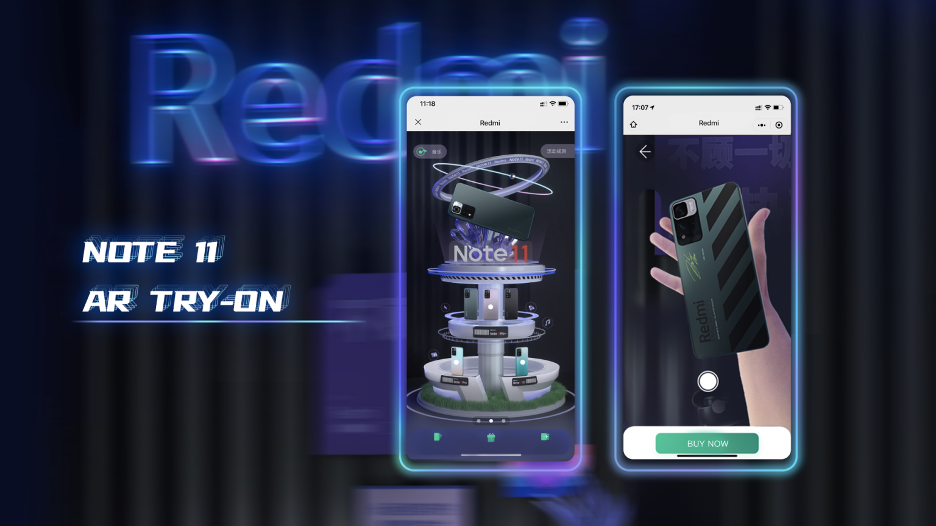 To celebrate the release of its new Redmi Note 11 series the Chinese electronics company launched an augmented reality try-on pop up store, whereby customers could 'access' the new products through their current phone and try them on thanks to high-performance 3D rendering technology. There was even an audio component thanks to 3D earphone engagement.
The brand worked with multi-talented and thoroughly in-demand influencer Wang Yibo as brand ambassador to introduce the products. Shoppers could also try on Redmi's Watch 2 and explore all products in detail thanks to 360 degree views. We feel the don't-miss-it appeal of an ephemeral online pop up is amplified by having a well-known ambassador who can draw a large audience in a short timeframe. This in combination with such immersive and – let's face it, fun – technology is key to reaching and delighting a digitally fluent demographic.
GUCCI
ONLINE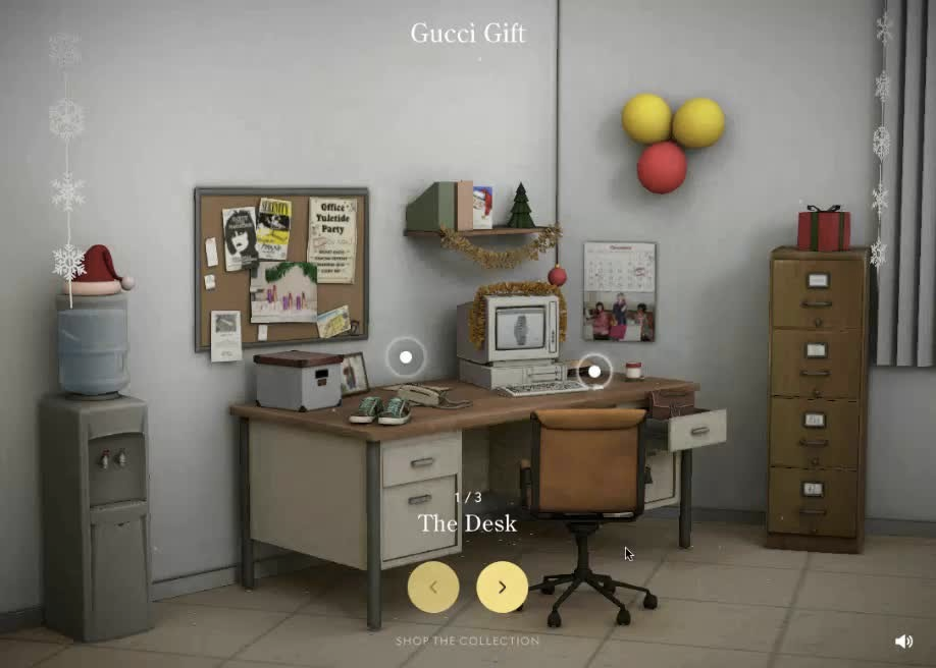 For its 2020 Gift Giving Campaign Italian fashion house Gucci was inspired by a 90s office party "where the workplace becomes an impromptu mix of dance floor, nightclub and bar" – and what better way to launch the fun and festive campaign than via an online VR pop up? Shoppers could browse the three different digital spaces (office, photocopy, and conference rooms) where the Gucci collection pieces were hidden in plain sight awaiting discovery. We love the gamified shopping experience on display here, which adds a touch of play to a lot of appealingly nostalgic lifestyle marketing, and beautifully captures that generous, relaxed yet buoyant spirit of the end-of-year season. 
Elsewhere, Gucci has also been leveraging a host of AR try-on technology (shoes, eyewear, jewellery etc.) to personalise shopping for their customers, avoid some of the unknowns regarding fit, colour and style that online shopping always brings, and drive sales growth. 
LANCÔME
ONLINE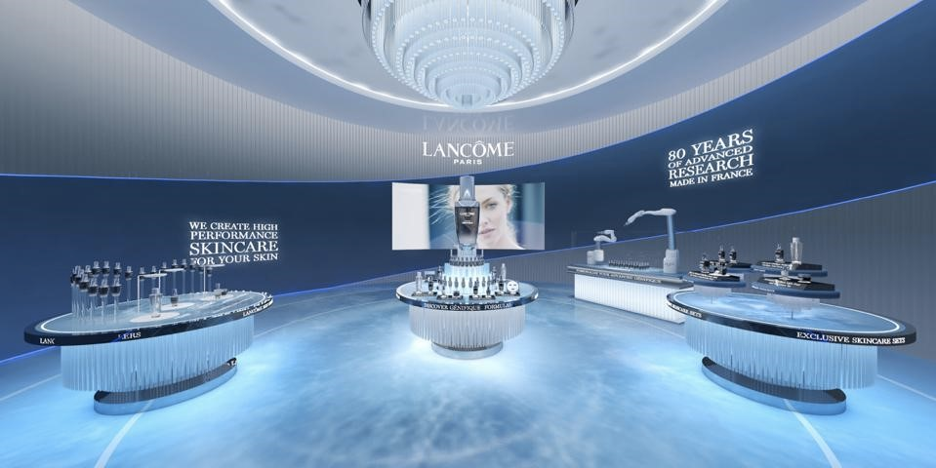 French luxury cosmetics label Lancôme launched its flagship virtual pop up store in 2020, exclusively for the Singapore market.
Shoppers were encouraged to connect and explore from the comfort of their homes, discovering five distinct zones: they were guided through a strength-finding personality test (discover), a skin diagnosis via selfie and virtual consultation thanks to an AI-enabled chatbot feature (explore), an inspiring series of over 100 women sharing their own narrative (inspire), a zone where celebrities and influencers could be found live-streaming discussions on inner strength and empowerment (live), and lastly, of course, the boutique zone (shop) where the full range of products was available to buy.
In a time when in-store product testing and consulting became an impossibility, we appreciate the effort and innovation that went into this pop up and the empowering messaging behind it; at the height of the COVID-19 pandemic Lancôme went to great lengths to continue serving and building a relationship with its customers despite unprecedented difficulties. 
The power of AR and VR in the retail sector is only just coming into its own, but it is set to change the face of the industry. Pioneers of this trend are already reaping the benefits. The seamless blending of physical and digital realities not only creates immersive and personalised experiences for customers, but it also drives engagement and sales growth.
Staying ahead of the curve is crucial – so how can your brand tap into the potential of these groundbreaking technologies?
At Fusion, we specialise in world-class retail merchandising and display services, including the latest AR and VR solutions. Our team of experts is here to help you navigate this exciting terrain and find the best approach for your specific needs and goals.
Contact us via [email protected], and let's explore the possibilities together. The future of retail is here – and it's augmented.