Powerplay Retail and The International Fusion Corporation Join Forces to Provide Retailers with Sustainable Solutions to Single-Use Plastic Bags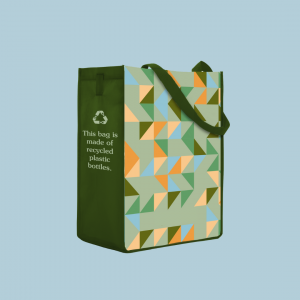 Retailers now have access to sustainable, reusable, and washable paper bags that can be custom printed and are recyclable at end of life.
Powerplay Retail (Powerplay) and The International Fusion Corporation (Fusion) have launched a joint venture to provide retailers with a full-service sourcing solution for reusable bag options as more states and municipalities enact legislation banning single-use plastics. Now, retailers can order private label and owned brand sustainable, reusable bags made from a wide range of substrates, including non-woven and woven, jute, canvas, cotton and washable paper. The full range of bags available comply with single-use plastic ban requirements and are distributed by Powerplay, with blank options and private label customization available.
With Powerplay's broad reach of retail partners and distribution capabilities paired with Fusion's product design and development know-how and responsible sourcing and factory relationships, the partnership unlocks capabilities to support retailers in providing sustainable, owned brand and private label solutions at affordable price points. Customized, turnkey service plans are now available to meet retailers' specific needs, including the support of experienced retail operations teams, product testing and compliance, packaging and display services, high volume production capacity, distribution, and efficient freight pack-out and planning.
Americans use 100 billion plastic bags a year, according to Waste Management. To help combat the environmental impact of single-use plastics, eight states—California, Connecticut, Delaware, Hawaii, Maine, New York, Oregon and Vermont—have banned single-use plastic bags and containers. Other cities and counties across the country have similar bans, each with their own requirements on material and durability standards, making it challenging for retailers to monitor and comply with laws that can vary by zip code. The Fusion and Powerplay partnership delivers streamlined manufacturing capabilities along with an alternative bag solution that can be implemented at stores nationwide to help simplify operations for retailers.
"We believe we are uniquely positioned as partners to be able to make a significant impact and render lasting change throughout the retail industry in terms of reducing the environmental impact and need for plastic packaging," said Tracy Thie, Principal & Co-Founder of Powerplay Retail. "The private label reusable bags are just the beginning of this mission. We intend to introduce an entire suite of products available for customized private label or branded under the washable paper EarthgradeTM brand that will address many of the most pertinent issues the retail industry is facing when it comes to sustainability." Simon Norman, the Founder and CEO of Fusion, commented: "Our partnership with Powerplay allows our innovative and sustainable products to reach a large number of US retailers to help them achieve their sustainability targets and boost their environmental credentials. We look forward to our reusable bags and washable Earthgrade bags becoming widely used throughout the whole of the US."
About Powerplay Retail
Powerplay Retail is a privately held, Minnesota-based company with offices in Bentonville, Arkansas, and San Francisco, California. With over 250 years of combined retail experience bringing brands like Beats by Dr. Dre and GoPro to consumers, they continue to vet and identify new market opportunities to best serve their brand and retail partners. For more information on Powerplay Retail, visit powerplayretail.com.
About The International Fusion Corporation
Fusion is a privately held Australian-based company with principal offices in Melbourne and Sydney (Australia), Hong Kong and Manila (the Philippines), China, Vietnam and New Zealand. For over twenty years, Fusion's project delivery teams across retail design, visual merchandising, temporary and permanent displays and print procurement have generated the critical mass that has released energy, ignited creativity and shaped outcomes for more than 600 brands across the Asia Pacific region.